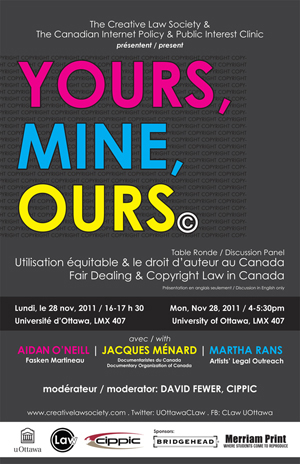 The Creative Law Society & the Canadian Internet Policy and Public Interest Clinic present:
Yours, Mine, Ours: Fair Dealing & Copyright Law in Canada
Discussion Panel
DATE: Mon, Nov 28, 2011, 4:00-5:30pm
PLACE: Lamoureux Hall 407 – University of Ottawa
FREE ADMISSION
SPEAKERS:
Gerry Burtenshaw, Co-Founder and Chief Technology Officer of Legitmix, a music remix platform that allows users to create and sell remixes, mash-ups and sample-based tracks outside the conventional licensing process.
Jacques Ménard, documentary filmmaker and producer, Board Member of the Documentary Organization of Canada.
Aidan O'Neill, Partner, Fasken Martineau, specializing in IP, media and communications law.
Martha Rans, lawyer and arts advocate, Founder and Legal Director of the Artists' Legal Outreach in British Columbia.
MODERATOR:
David Fewer, IP and technology lawyer, director of the Canadian Internet Policy and Public Interest Clinic (CIPPIC)
Is copyright important for artists? Are initiatives such as Creative Commons good for creators? What does a "YouTube exception" mean for content providers? With Bill C-11, the new copyright legislation currently before Parliament, the legal landscape for the creative sector is on the edge of major change. CLaw and CIPPIC invite you to a lively discussion and debate that reflects perspectives from across the user/creator spectrum.
RSVP Facebook or by email at admin@creativelawsociety.com