Archive | Ottawa
RSS for this section
CLaw and CARFAC (Canadian Artists' Representation) invite you to join us for a multidisciplinary pint!
Step in from the cold and have a drink (or two, or three) with members of Ottawa's arts and legal community. We will be taking this opportunity to discuss CARFAC's upcoming Arts Law Conference in June 2012, including ways for students to get involved. Come and mingle with people who share similar interests!
Where: The Royal Oak (161 Laurier Avenue East)
When: Wednesday, February 29th, 6:00 to 9:00 pm
RSVP on Facebook.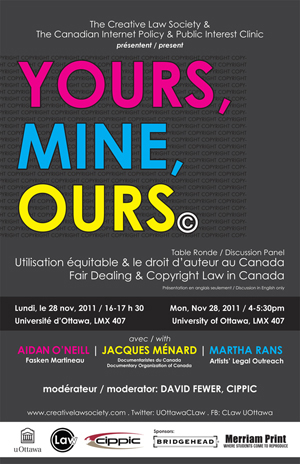 The Creative Law Society & the Canadian Internet Policy and Public Interest Clinic present:
Yours, Mine, Ours: Fair Dealing & Copyright Law in Canada
Discussion Panel
DATE: Mon, Nov 28, 2011, 4:00-5:30pm
PLACE: Lamoureux Hall 407 – University of Ottawa
FREE ADMISSION
SPEAKERS:
Gerry Burtenshaw, Co-Founder and Chief Technology Officer of Legitmix, a music remix platform that allows users to create and sell remixes, mash-ups and sample-based tracks outside the conventional licensing process.
Jacques Ménard, documentary filmmaker and producer, Board Member of the Documentary Organization of Canada.
Aidan O'Neill, Partner, Fasken Martineau, specializing in IP, media and communications law.
Martha Rans, lawyer and arts advocate, Founder and Legal Director of the Artists' Legal Outreach in British Columbia.
MODERATOR:
David Fewer, IP and technology lawyer, director of the Canadian Internet Policy and Public Interest Clinic (CIPPIC)
Is copyright important for artists? Are initiatives such as Creative Commons good for creators? What does a "YouTube exception" mean for content providers? With Bill C-11, the new copyright legislation currently before Parliament, the legal landscape for the creative sector is on the edge of major change. CLaw and CIPPIC invite you to a lively discussion and debate that reflects perspectives from across the user/creator spectrum.
RSVP Facebook or by email at admin@creativelawsociety.com
Here is some information about upcoming cultural and artistic events in and around Ottawa. The Creative Law Society will not be organizing formal outings for these events but they are definitely worth checking out:
1. Treepot Media Filmmaker Showcase
When: Thursday, September 22nd. Doors at 6:30 pm show starts at 7:00 pm
Where: Mayfair Theatre (1074 Bank St, at Sunnyside)
What:  A showcase of all local, independent filmmakers. The filmmakers will be at the event!
Admission: $5.00
For more information go here.
2. Ottawa International Animation Festival
When: STARTS TODAY! Wednesday September 21 – Sunday September 25
Where: Chateau Laurier, Bytowne Theatre and other locations downtown
What: Screenings of award winning animated films and social/networking activities
For the full schedule of events, admission prices and more information check out the website.
3. The Long Haul, J. P. Hoe and Ivy Mairi at the Blacksheep Inn
When: Sunday, September 25th, 4:00 pm
Where: Blacksheep Inn (753 Riverside Drive, Wakefield Quebec, about 25 minutes from downtown and well worth the drive if you                can)
Admission: $7 in advance, $10 at the door (students get 1/2 off with ID)
For ticket info and the preview the artists' music check out the blacksheep website.
4. "Decolonize Me" Exhibit at the Ottawa Art Gallery
When: September 23rd- November 20th
Where: Ottawa Art Gallery, Arts Court, 2 Daly avenue
What: Six contemporary artists who's work challenge, interrogate and reveal Canada's long history of colonization in daring and innovative ways.
For more information on the exhibit, the artists and gallery events check out the show's website.
Part of "Decolonize Me"
Saturday 24 September 2011, 12:30 pm
Talk with Curator Heather Igloliorte
Curatorial Walkthrough of the exhibition.
Saturday 24 September 2011, 2:00 pm-4:00 pm
Critic Panel
Curator Heather Igloliorte will moderate a discussion with critics and writers Barry Ace and Steven Loft around art, sovereignty and the processes of decolonization in Canada. The audience will have the opportunity to join in the conversation with questions for the panelists.
5. L'Amour fou
When: Thursday, Sept 29th, 6:50 pm
Where: Bytowne Theatre (325 Rideau Street)
What: A film about Yves Saint Laurent, and his partner Pierre Berge, and the auction of their art collection upon his death. 
View the trailer here.